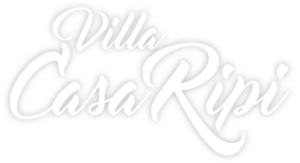 RADICONDOLI – SIENA – TUSCANY
"HOLIDAYHOMES IN PARADISE"
Welcome to Villa Ripi
---
VILLA CASA RIPI is a holidayhome located between Siena and Volterra at 5 km distance from the ancient village Radicondoli. Quiet but not remote, it's located in one of the most panoramic landscapes in the heart of Tuscany, which probably is the culturally richest region of Italy. Because of its strategical position, it's the ideal starting point for Your tours.
Villa Casa Ripi is just 25-30 minutes far by car from places like Siena, Volterra, San Gimignano, Colle di Val d'Elsa, Poggibonsi, Monteriggioni, Montieri or Massa Marittima. Right around the corner there are the thermal springs of Petriolo and San Galgano (The abbey without a roof). In almost one hour by car, You can get to the seaside or to Florence. Even the Chianti-Region can be reached in just 30 minutes.
Even in ancient times the "Casa Ripi" was not only a farmhouse, but also a tavern and harbourage, 'cause of its location near to the pilgrim tray & salt-way which leads from Volterra to Siena. Thanks to the sunny hills around the property, the viticulture was very successful and the vine from Casa Ripi became famous as the most tasty and powerful in the area. Noble families from Siena used to order that extraordinary red vine for their festive occasions.
The farmhouse, established in the 10th century, has been recently restored, preserving its typical medieval design. At the first floor it provides a wide apartment for up to 8 guests, with a huge scenic terrace. The ground floor hosts other apartments: One designed for 2 to 3 persons with a vine-pergola and two apartments for up to 6 guests, each. The unique panorama You will get on the Ripi-Hill, gives a wide view on the surrounding farms and villages like Radicondoli, Monteguidi, Montecastelli und Pomarance.
All apartments have a separate entrance and a wide private terrace. The house is surrounded by a large garden which provides a sun terrace, a shade terrace, a barbecue site, a panoramic biopool (saltwater – 8,5 by 5 meters, 1,20 meters depth – open from about mid May to the end of September), a child swing with sandbox and outdoor furniture.
A unique location that wants to take the opportunity to give an experience of harmony and relax to all our guests, surrounding them with an idyllic natural atmosphere.
Exclusive holiday apartments in the heart of Tuscany
---
The Frantoio apartment is the only one separated from the Villa and is located in the historic centre. Built on the medieval walls of Radicondoli, it was once used as an oil mill for the local community.
Enjoy your Tuscan dream vacation
---
Discover Tuscany from its most pleasant side and feel yourself at home in our 1.000 years old villa.